Jose Alba — the New York City deli worker charged with murdering an ex-con who physically attacked him last week in what many are calling a clear case of self-defense — was released Thursday from notorious Rikers Island prison on reduced bail.
What are the details?
After first setting Alba's bail at $250,000, prosecutors said they negotiated a new bail package with Alba's lawyer and asked Judge Jonathan Svetkey to reduce it to $50,000, the New York Post reported.
The paper said prosecutors claimed Alba was a flight risk because of a planned trip to the Dominican Republic next week.
While out on bail, Alba must wear an ankle bracelet, must surrender his passport, and can't leave New York City, the Post reported, adding that Assistant District Attorney Jennifer Sigall said the bail terms "will ensure the fact that the defendant will not go to the DR as he planned to."
Alba — a native of the Dominican Republic — came to America about 30 years ago and became a citizen 14 years ago, the Post added.
"He has every intention to return to court and defend this case," Alba's attorney, Danielle Jackson of Neighborhood Defender Service of Harlem, said in Manhattan Criminal Court, according to the paper.
Prosecutors will present the case to a grand jury on July 20, the Post said.
What's the background?
A woman tried to use a benefits card to buy potato chips for her 10-year-old daughter around 11 p.m. Friday at the Bluemoon Convenient Store in Harlem on Broadway near West 139th Street, the New York Daily News reported.
The transaction was declined, the Daily News said, citing the criminal complaint.
Amid an argument, prosecutors said Alba reached over the counter, grabbed the girl's hand, and yanked the chips away, the Daily News reported.
Alba's boss — deli owner Maad Ahmad — told the Daily News the mom became enraged: "The lady threw everything from the counter and the [benefits card reader] machine, too. She said, 'I'm going to get my man, and he's going to get you.'"
The mother then came back inside the deli with Austin Simon, who got behind the store's counter to confront Alba, the Daily News said.
Security video shows Simon shoving Alba into product shelves, after which Alba — sporting a baseball cap, glasses, and a white mustache and beard — appears to slide down the shelves into a seated position.
The Daily News said Simon actually shoved Alba hard into a chair that hit the merchandise shelves.
"Jose said … 'I don't want any problems,'" deli owner Ahmad recounted to the Daily News.
Simon then grabs Alba by the neck, pulls him up, and begins to walk him out of the area behind the counter.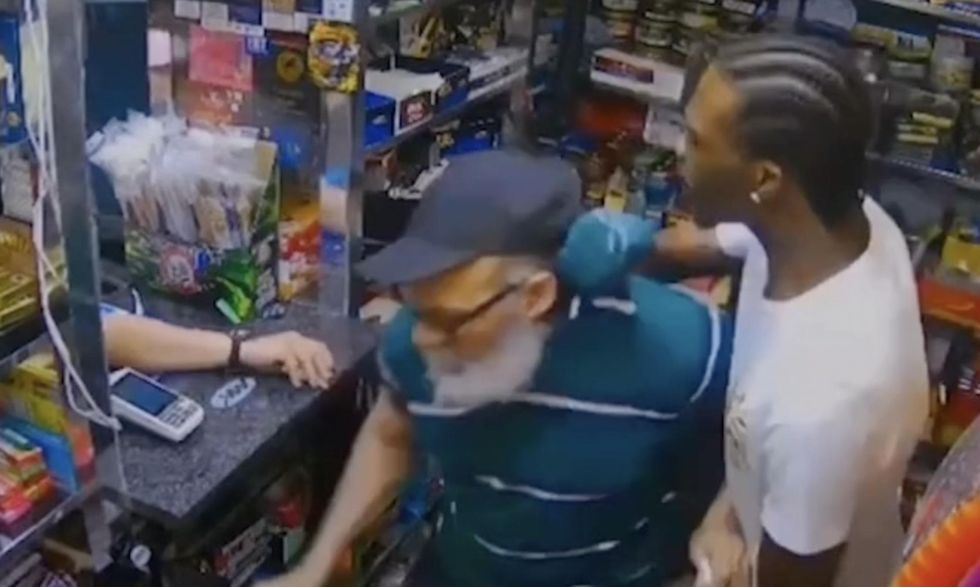 Image source: TeaTenders video screenshot
With that, Alba grabs a knife that the paper said was stashed behind the counter and starts fighting back.
"He wanted me to come apologize to the girl," Alba told a New York City police detective, according to the Daily News. "I took the knife we use to open boxes, and I stabbed him."
The Daily News — citing the criminal complaint — added that Simon's girlfriend grabbed a knife from her purse and stabbed Alba in the arm.
Video shows Alba checking out what appears to be stab wound on his bloody left arm.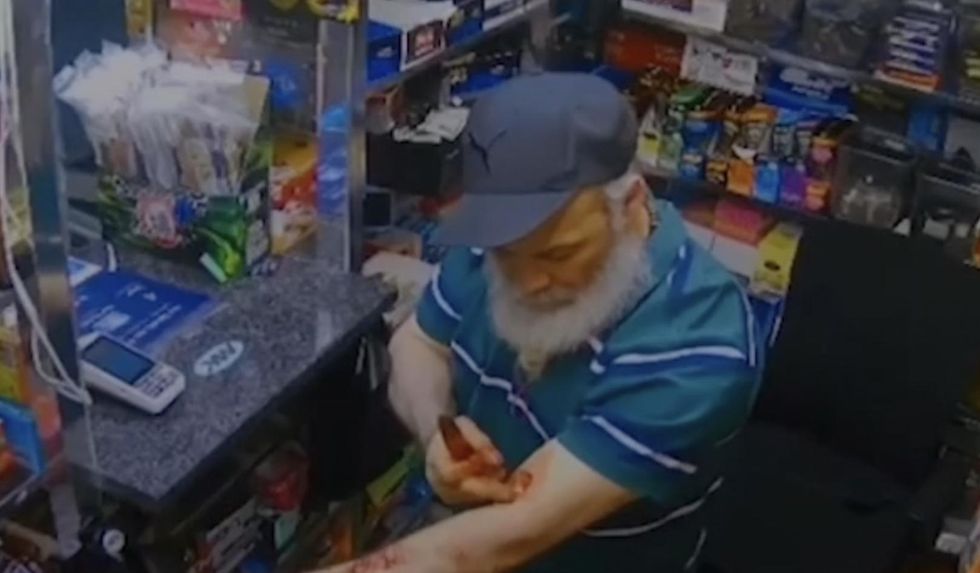 Image source: TeaTenders video screenshot
Here's security video of the fight. Content warning: Graphic video.
EMS crews took Simon to Harlem Hospital, where he was pronounced dead, WNBC-TV reported.
Alba was arraigned Saturday on a second-degree murder charge, the Daily News said. He also was charged with criminal possession of a weapon, police told WNBC.
'Jose Alba should be getting a Congressional Medal of Honor'
The Post reported that Guardian Angels founder and former mayoral candidate Curtis Sliwa said Thursday outside the courtroom that "Jose Alba should be getting a Congressional Medal of Honor. Instead, he's locked up on Rikers and this is all [Manhattan District Attorney] Alvin Bragg. He turns loose real criminals, and he incarcerates victims who fight back. What kind of a message is this?"
Mark Bederow, a former Manhattan prosecutor, added to the Post: "I don't think a grand jury would indict [Alba] for murder in the second degree, and I don't think a jury would convict him beyond a reasonable doubt given what the justification statute states," which refers to self-defense arguments.
'Murdered in cold blood'
The Post said Simon's family exited Thursday's hearing in tears, with his sister saying Simon "was murdered in cold blood."
"If the shoe was on the other foot, my brother wouldn't have gotten bail or bond or nothing," she added, according to the paper.
Tina Lee, who said she has three children with Simon, called him "a good man" and a "good father" who took "good care" of all his children, the Post noted.
A separate Post story reported that Simon was on parole at the time of last week's deadly incident for assaulting a cop. State corrections records show Simon served prison time on a second-degree assault conviction for attacking the officer before he was paroled last year, the Post added.
In addition, the paper — citing sources and records — said Simon was busted at least eight times on charges ranging from assault, robbery, and assault during a domestic dispute.